Portrait: the MicroPast process
To achieve optimal solutions and fulfilment of customer needs, several companies have been combiend under the umbrella brand Gigatherm.
Gigatherm AG: Production of microwave system solutions for food manufacturers as well as industrial and laboratory applications.
Gigatherm Food AG: Trendsetter in the food and process development with great knowledge of latest preparation methods and techniques.
Gigatherm Engineering AG: Development of microwave system solutions for food producers, industrial and laboratory applications.
Koller + Morger: Independent brand and manufacturing partner for sheet metal processing. Learn more at www.kollermorger.ch
Only recipes for success meet the market needs
Larger quantity, easy processing, fast preparation. Convenience food is on everyone's lips and it continues to evolve. In the past people spoke of shelf life and ease of use, now there is another strong need: Quality.
Continuous microwave system
Cooking and pasteurizing in one process
• Modular design from 12kW to 180kW
• Very homogeneous heating pattern due to the 4D technology used
• Bandwidth 300-600mm
• Smallest foodprint (no additional electrical installations)
• Water-cooled, therefore very low noise emissions
• Complete offer including tray sealer, gas and label installation as well as all conveyor belts / conversions
• Preferred method "Micropast" (see video)
• Full cups of flexibility
• Continuous process for optimum flow production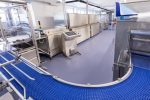 The MicroPast process
LONGER SHELF LIFE
Food stays fresh longer with MICROPAST®. Thanks to the efficient pasteurisation method, products in refrigerated display cases can be preserved for up to 90 days.
BETTER QUALITY
MICROPAST® is an extremely gentle process and the short process time and low thermal load mean that texture, colour and nutrients are preserved.
GREATER EFFICIENCY
With MICROPAST®, pasteurisation is achieved in just 10 to 12 minutes. Cooking and pasteurisation occur in one single step for a continuous and cost-effective process with no pre-cooking.
GREATER DIVERSITY
Being a gentle process with no addition of liquids, MICROPAST® is also suitable for sensitive ingredients – ideal for sauce-free recipes and for expanding the range of products.
More information about the MicroPast process, and Gigatherm, can be found here:
www.gigatherm.ch – GIGATHERM Präsentation Food Service & Care_Micropast Verfahren
www.micropast.com