Torus Pak®
Torus Pak® – the new generation of meal tray
Expect the exceptional and enter the next dimension of straight-to-plate food with Torus Pak®. This packaging solution is unlike any other in the world and turns every ready meal into a star performance, whetting the appetite for more.
Torus Pak® has redefined the concept of ready meals. It is innovative, flexible and every bit as diverse as the world of food, so you can give free rein to your creativity and business ideas. Whether you want to provide a varied menu in your bistro, serve a large number of exactly portioned dishes at the same time or present your ready meals in an attractive way: Torus Pak® conjures up meals on the plate – just like magic.
This is made possible by the patented Torus Pak® technology. The meal tray can be individually filled and opens in a surprising way from the bottom. It is compatible with almost every packaging line and wonderfully straightforward to reheat: simply warm through, pull off the base, remove the packaging – and voilà! Dinner is served.
Torus Pak® – it can offer you more!
Sectors
Torus Pak®: committed to good taste
The best ingredients combined with a unique form of presentation. That's what makes food enjoyable. From restaurants to hospitals and canteens or on the move, with Torus Pak® you can give your customers that special feeling of being invited to dine with friends. Anywhere in the world.
A fitting concept has been developed by Torus Pak® for your type of business:
Food industry
Are you a manufacturer of high-quality ready meals that you want to package and market with the same high quality? Do conventional meal trays with one or more sections somehow fail to do your dishes justice? Use Torus Pak® to present the quality of your food in a way that is also visually appealing.
Catering
Are tailored catering concepts your core area of expertise? Do you specialise in location-independent production processes? From school meals to major events – do you want your food to be both tasty and visually appealing? Torus Pak® is the solution that will make your quality cuisine even more popular.
Wholesale
Is it your business to meet wholesale catering needs? From napkins to packaging solutions – do you offer your customers everything they require? If so, you should expand your range with an innovative, unique packaging solution. The Torus Pak® system is globally unique and could well become your new top seller.
Airlines and train companies
Do you prepare dishes to order for hundreds of passengers? Does your service include first-class quality on board with meals that are exactly the same? Do you need a quick and easy system that allows your crew to prepare food for rapid service? If so, the unique catering concept from Torus Pak® can save considerable work.
Canteens
Do you serve up a large number of portions every day? Is your slogan healthy, tasty canteen food that should also look good on the plate? Tackle this challenge with the economic Torus Pak® system and make a statement with impressive results.
Defence and justice
Do your military catering services keep the armed forces fit and healthy? And does the quality of meals have to be just right for officials and prison inmates, too? With the surprisingly efficient Torus Pak® system, you can prepare, reheat and serve appetising meals in restaurant quality anywhere, at any time.
Hospitals, nursing homes and meals on wheels
Is good food a matter of life quality for your patients? Do your meals provide a welcome change from daily routine and aid the recovery process? With Torus Pak® you can serve a large number of exactly portioned dishes just as easily as a selection of lovingly arranged ready meals.
Retail
Are sales of ready meals booming in the chilled section? Do you want to offer your customers fast food with the quality of 'slow food'? Do you have a demanding client base that pays attention to both presentation and content? If so, the patented Torus Pak® system will inspire your customers.
Hotels
Do you want to offer your guests hot meals around the clock despite having a limited number of staff? With Torus Pak® you can effortlessly conjure up delicious restaurant-quality meals even with a small team – and no head chef.
Restaurants and Bistros
Does your menu contain small dishes? Do you want to offer your guests a varied selection at all times? Quick to serve and visually appealing – even when things are very busy? Torus Pak® makes preparation and presentation easier than ever before.
Playgroups, schools and universities
Do you serve healthy and affordable meals for bright minds? Does your canteen only allow heating and final cooking on-site? Then you need easy-to-use technology that even the smallest kitchen can accommodate. Torus Pak® is the perfect alternative, leaving you wanting more.
Adam Franklin, Yacht Club Catering
Benefits
A revolution in the packaging market. The Torus Pak® system has gained multiple awards and certifications, and it will also get your business cooking.
Sustainability
Economy and sustainability – the packaging solution from Torus Pak® offers you both.
Take an ecological approach with:
exact meal portions
low water and energy consumption
recyclable raw materials
Economy
When it comes the use of goods and staff, Torus Pak® helps you to keep an eye on running costs and to plan economically.
You can count on:
low labour costs thanks to easy handling
flexible technology for all types of professional kitchens
fast pay-off of investment costs
compatibility with all standard packaging lines
Quality
Quality and appearance – Torus Pak® is the surprising solution for anyone who wants more.
Put yourself in front of the crowd with:
appealing presentation – like that of a top chef
ultimate flexibility in terms of menu range
uncomplicated, fast and gentle reheating – even in small spaces
optimal support for all methods of temperature separation
Marketing appeal
From home-style cooking to fusion cuisine, the patented Torus Pak® system ensures that you and your products will remain on everyone's lips.
Define your brand appearance with:
visually appealing packaging solutions
distinctive branding for every concept
user-friendly preparation
Technical information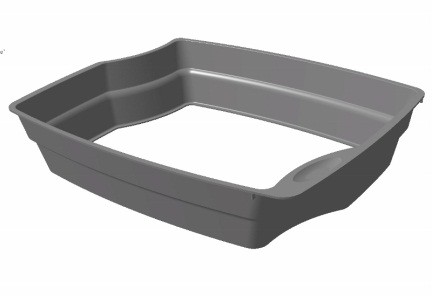 Torus Pak® – State of the art
Torus Pak® – Details
Outside dimensions: 196 × 156 × 40 mm
Inside dimensions: 188 × 148 × 40 mm
Capacity:: up to 900 ml, net filling volume 650 ml
Weight: 20.3 g
Material Information
Black meal tray
Low-migration certified food packaging made from polypropylene.
Temperature resistance: from
–40°C to +121°C when handled with care
Suitable for freezing and microwaving
Compatibility
Torus Pak® – Technology at its best
Flexibility is our strength – and your advantage. This is because Torus Pak® is compatible with all standard meal tray packaging systems, meaning it is also straightforward to integrate in your existing packaging line. When it comes to food preservation methods, Torus Pak® also offers a wide choice. From gas treatment to modified atmosphere, the Torus Pak® system can support any technique.
As a bonus, we also provide our unique Torus Pak® technology in the form of equipment for hire or purchase. Whether you are just getting started or are already a packaging expert, Torus Pak® will grow with your requirements.
Torus Pak® – a solution made just for you:
the manual sealing machine
The manual Torus Pak machine is ideal for packing small quantities. This compact tabletop unit can find space in even the smallest restaurant kitchen.
Meal tray sealer without gas treatment
Reliable and easy to use – this describes the automatic and semi-automatic machines from Torus Pak in a nutshell. Whether the unit sits on a work surface or a trolley, simply position the tray. The rest happens almost as if by magic.
Meal tray sealer with protective gas
To prolong the shelf life of your meals to as much as eight days, we provide semi-automatic sealing machines with oxygenation technology. Simply add the gas, seal and cut – it's a piece of cake with machines from Torus Pak®.
The MAP meal tray sealer
The smart solution for modified atmosphere packaging is the MAP meal tray sealer from Torus Pak. After the food has been vacuum-packed, the gas mixture is injected directly into the tray. This can increase the shelf life of your products by ten days or more.