Hotelier of the Year / HotelExpo 2017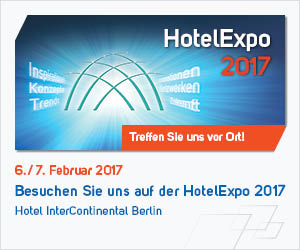 HOTELIER OF THE YEAR / HOTELEXPO 2017
6 and 7 February 2017 | Hotel InterContinental Berlin
The Innovations Forum for Hotel and Catering, in parallel to the German Hotel Congress and Hotelier of the Year: This year again, you could experience the most important innovations and trends in the industry in one place.
The large interactive exhibition offered a wide range of ideas for amazement and touch, as well as information and lively presentations for all hotel areas in a high-Quality and feel-good atmosphere.
Theme, action and communication zones animated to discover, try, enjoy, and query, as well as networking. Exciting specialist contributions at the ExpoStage and new cooking shows extended the professional knowledge and intensified the branch talk additionally.
Source: www.hotelexpo.de
Here are some impressions from the Torus Pak stand:
Details
Datum:
06. februar - 07. februar
Veranstalter:
Hotelier of the Year / Hotel Expo 2017
Veranstaltungsort
Hotel Intercontinental
Budapester Straße 2, 10787 Berlin
Google Maps
E-Mail:
info@toruspak.com